What Our Customers Have to Say
We are nothing without the love and appreciation of our clients. We take
immense pride in the fact that the majority of our business comes from referrals.
Closet Stretchers installed our master closet and we are very happy with the results. They were able to organize the closet and gave us a lot more space. Our closet looks really great so we decided to have them design our wine rack area also. The material and prices at Closet Stretchers were much better than the other 5 estimates that we got ( yes, we called many companies because wanted the best price and the best material). The sales staff and installers were all professional, courteous, and very punctual. We wouldn't hesitate to bring them back for future closet needs. We very highly recommend them. Sila, who was our designer, was amazing. returned all my calls and emails and came out to our home multiple times to measure and discuss the closets with me. Extremely happy!
I needed to redo my laundry area, and Closet Stretchers made the whole process so easy. The staff was very helpful, friendly and fast. The installation was all done in a day and my laundry area looks fabulous. Do not hesitate to call them. They're great at what they do, and even if you're not sure what your needs are, they'll help you determine them and then create a plan accordingly. When I called Closet Stretchers, I only had a general idea of what I needed, but they made it happen.
I love my new closet! Thanks to our designer. We interviewed three different designers, and his design and prices were the best. I guess because they are not a franchise their prices are so reasonable. He has a great eye for optimizing space! The whole process was easy and painless. The installer was great too. He was efficient and made no mistakes. Very happy customer!
Dear Morri:
Just a line to tell you how pleased my wife and I are with the major work, including an office and master bedroom closet, installed at our home by Closet Stretchers two weeks ago. Frankly, I was concerned about signing a contract since Closet Stretchers' pricing was considerably less than your competitors but after all have been said and done, I want to commend your company for your competent staff, gracious estimator, and your most talented installers. Moreover, the installation crew did not scratch one wall while bringing in hundreds of pounds of materials and went out of their way to produce a beautiful office despite the fact that my walls were not plumb.
Thank you again for delivering on what you promised – and more so.
To Barbara at Closet Stretchers-
My Husband and I are very pleased with our recent experience with Closet Stretchers. Thank you for explaining things so clearly over the phone, so we knew what to expect. Our design consultation was a positive experience for us. Our consultant took the time to listen to our storage needs and ideas, and then he described the installation process to us.
The installation itself was quick and painless, and we appreciated that your installers arrived when they said they would. Closet Stretchers gets an A+ for service from us.
We were moving into our new home in a week and asked Closet Stretchers if we could have our closets installed prior to our move-in date, to avoid getting buried in clutter. Our designer said that she could meet our deadline since their manufacturing facility is right here in Rockville. Her designs were perfect for our needs. It takes a special talent to look at your closet and design one that fits everything perfectly. The installers arrived on time and the setup went smoothly, with no mess to clean up. We were very pleased with the whole experience and would not hesitate to use Closet Stretchers again.
Dear Closet Stretchers –
There was no way my fiancée and I could have fit into our new condo without some much needed storage assistance. Thanks for making that happen! Your installers set up storage systems in three of our new closets, including that walk-in in the master bedroom, and they did a fantastic job. Even better than expected. In a space as small as our condo is, you have to be able to store more than just clothes in the closet, and Closet Stretchers allowed us to do just that. I will definitely recommend your company to my friends and coworkers.
Thank you for "stretching" our garage so well. We really needed it! Our garage used to be just a mess … with my husband's sports gear everywhere and the children's toys, etc. The storage shelves and storage wallboards you installed got all those storage boxes out from under foot and out of our way. The family bikes that used to be scattered all over the floor can now be safely hung on the walls and out of the way. Most importantly, now we have the space we need to park our cars!
My husband and I had been procrastinating over organizing the garage for years, and now we don't understand why we waited so long. It was a pleasure doing business with Closet Stretchers!
After buying our new home, I dreamt of having a well-organized walk-in closet full of drawers, shelves, and rows of hanging clothes. A place for all my stuff! I called Closet Stretchers and the process was very straightforward and took less time than expected. Our designer took notes of all the features we wanted and didn't pressure us into making any decisions, which we appreciated. He provided us with a sketch of our closet, so we could see what we were getting, and then he went over all the details with us. We were quoted a reasonable price, so we set up an installation date. I was at work when they came to install, and when I came home, I was excited to see that everything turned out exactly as I hoped. Our closet matched the designer's sketch. I am so happy with their work! I plan to call them again very soon, so they can help me with my garage. Four stars!
Our Closet Stretchers designer was excellent, knowledgeable and very helpful. He had done some wonderful work for two of our neighbors, so I asked him to help with the closets in our new home. I felt like he really listened to what we needed. Between him and the installers, they made the whole experience simple. There was no confusion or frustration. We are thrilled with our new closets and can't wait to get the rest of our house done. Thanks a million!
The staff at Closet Stretchers is awesome! We had them quote us on a few closets for our condo, and their quote was lower than the two other quotes we got. I found out, because they are not a franchise, they are able to give us a much lower price. Our designer and the installers arrived promptly and were extremely careful with our installation. They left the space clean, and I was pleasantly surprised. We couldn't be happier!
Thank you for quickly responding to our call about a hanging rod and shelf collapsing in our master bedroom closet. Your installers were out within a week, and now that same closet can handle twice the clothes. More importantly, I can now fit all my shoes in that closet too, and my husband will tell you that's some sort of miracle.
I went to the Closet Stretchers showroom feeling very confused and worried about my storage solution needs and budget, because this was my first time making this kind of purchase. Luckily, Closet Stretchers exceeded my expectations. I was surprised to see so many displayed closets, home offices, mudrooms, laundry rooms, and garages in their showroom. There was so much to choose from! The sales staff took their time explaining the different finishes and design options, and they came up with a solution to meet my budget. The installers who worked on all four of my closets were fabulous. At every point in the project, I felt like we were in good hands. It's rare, in our experience, to have such a consistently positive experience with a company. A+
I needed to re-do my closets, and after shopping around, I narrowed it down to Closet Stretchers. I am very glad I did. They are courteous and accommodating. The designer who came to our house did a wonderful job, and I was totally happy with it. The installers were polite, on time and cleaned up when they were done. I couldn't have been happier; the design was just perfect for my closet. Now I have more room in my closet than I could have ever imagined. I can't say enough about this company! They will certainly get my next project, another closet, and then it will be on to the garage.
I am thrilled with my newly organized closet from Closet Stretchers! I can fit a ridiculous amount of stuff in my closet now. After living in our home for 2+ years, we had started to accumulate a lot of clothes and other things. We have large closets with high ceilings that weren't being taken advantage of, with only one hanging bar across the middle of each closet and a single wire shelf. I started looking into closet organization as a way to fit more in there. I wanted good quality storage options that would also increase the value of our home while providing great functionality. The designer I worked with was excellent, friendly, and attentive. I gave him a ballpark idea of what I wanted, and in a few minutes, he had the perfect design. Our closet turned out great, and I love it!
OK, I won't even get into not being able to park my car in the garage, I needed help! The guys at Closet Stretchers made this process nice and easy! First, the staff was super helpful and friendly, and FAST! In ONE DAY, they had my garage wall system and a beautiful floor mat installed, and my improved garage looks fabulous. All that clutter is off the floor! And I can actually park my car in the garage again. I plan on hiring them to install a new storage system in our basement utility room as well, since they were so courteous and they know how to get the job done WELL and in a timely fashion.
I love my new home office! Working with Closet Stretchers was a great experience. I love the color that the salesperson helped me pick and the prices are a lot lower than the other companies I interviewed. I particularly loved being able to see the layout digitally before they cut the job. The measure and install were both efficient and well done. I felt like they really took their time and did it right. I couldn't be happier with any part of the process. My office is a joy to work in, I feel I am more productive, and I confidently recommend going with Closet Stretchers.
When we moved into our first home, the closets were in pitiful shape. Storage was already an issue for us, and we immediately prioritized maximizing our closet space. A friend recommended Closet Stretchers, so we looked at their website and called for an appointment. A friendly representative helped me schedule my appointment, and everything was set in motion. Our designer visited a few days later; he was professional, friendly and really worked hard to figure out our needs based on our available space, preferences, and budget. I was blown away by how he was able to price the work and provide us with a design sketch before he left. We're extremely satisfied with our closets. And best of all, I didn't have to spend hours (maybe days) installing everything myself.
I'm writing to thank you for organizing our garage. Your installers were knowledgeable and helpful, and actually arrived a half-hour earlier than expected. Their service combined with the high-quality products made this a very positive experience for our family.
Our daughter thanks you too! She is now riding her bicycle more simply because she can get to it easier. This makes me happy as well as pleased that we went with Closet Stretchers for this job.
Closet Stretchers is great!
What a Garage transformation!
We knew it was going to be a lot of work, but your installers made it look easy. Our old eyesore of a garage now not only fits both family cars, amazing in itself, but also my husband's workbench and tools. Now he can do all his sawing, and sanding, and drilling out in the garage instead of down in the basement, where he was giving me a headache.
Why didn't we do this sooner?
I wanted to drop you a note of thanks for the wonderful work your installers did on our garage. Frank and his fellow installer were very courteous and professional. I especially appreciated how well they cleaned up when the job was done. And what a job! Last evening, I was showing a neighbor the cabinet system and hanging wallboards that Frank installed that now store ours and our sons' athletic, hobby, and gardening equipment, and she was very impressed. So you should expect to hear from her and some of our other neighbors real soon. I've been showing off our new garage ever since the day it was installed.
Again, thank you.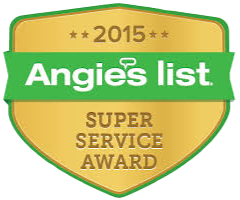 If you are a member of Angie's List, please read our reviews.
We are a proud winner of the Super Service Award every year since 2008.
Our Angie's List grades to date (updated 11.29.16):
| | |
| --- | --- |
| A | Price |
| A | Quality |
| A | Responsiveness |
| A | Punctuality |
| A | Professionalism |
Organized Life = Happy Life! Call 301-468-1090 today!